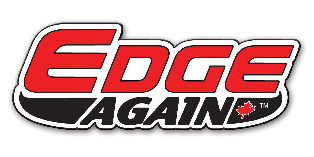 Introducing the first ever rechargeable powered hand held skate sharpening device. EDGE AGAIN™ uses a Diamond Coated "Tusk Technology" that is patent pending. This technology has been developed along with MAGNA Closures engineering team to accomplish a quick fix to an edge or edges that have received trauma during a hockey game.

The diamond coated tusks micro sharpen the blade's 4 sides that make up the 2 edges that are on a skate blade. This process does not affect the hollow or the contour of the blade that were created with conventional skate sharpening machines. Extensive testing has proven its viability and trainers that have tested EDGE AGAIN™, have indicated their desire to own this device.

Using EDGE AGAIN™ is simple and easy and with a little practice you can fix a player's blade just like a NASCAR pit crew on a Sunday afternoon pit stop!!! EDGE AGAIN™ self aligns onto the blade allowing it to fix both inside and outside edges at the same time in seconds. Massage over the damaged edge until EDGE AGAIN™ micro files all 4 sided to restore 2 sharp edges. Green light on EDGE AGAIN™ shows when battery is in good shape, when it turns to orange it still has enough power to sharpen more skates but we recommend charging it back up for more use the next time it's called on. Tusks last up to 20 pair of skates depending on severity of blade's trauma. Easy snap in and out technology makes it a breeze to change with your fingertips.
Sharpens all four sides to restore two perfect edges
Non motorized sharpening device
Sharpens and repairs all edges
1 Edge Again Holder
1 Diamond Coated Tusk
Complaints
The basis for a complaint and return is the proof of purchase of the product in question in our shop. Please inform us of any return prior to actually sending the goods back.
Complaints:
We consider all complaints immediately and help in their resolution. Warranty for products is 24 month
Complaints resulting from causes not due to the Customer include:
hidden defects,
parcel technical faults occurring during transport,
warehousing errors,
partial order completion,
erroneously issued accounting documents.
---
Returns
Returns: due to Customer's actions or decisions. Reason for the resignation has no effect on its recognition.
RETURNS PROCEDURE
Returning a purchased product:
1. All of our customers are have the right to withdraw from the purchase within 30 days after the receipt of the delivery. This right to withdraw can be exercised in writing and also be the return of the goods.
2. The statement may also be sent by electronic mail to: wysylka@sportrebel.pl
3. Returning the goods is equivalent to a cancellation of the purchase agreement entered into, thus certain legal requirements have to be observed in order to return the products.
4. Reason for the resignation has no effect on its recognition.
5. The cost of returning the goods to us bear customer.
6. The returned parcel must contain all the items which you received from us (additional accessories, freebies etc.)
If it's possible, please inclusion of the declaration stating your withdrawal from the purchase agreement (reklamacje_sportrebel.pdf appendix)
How to return purchased goods?
1.Package the parcel securely.
2.Send the parcel to our address:
Sportrebel Bartosz Graliński
ul. Wyzwolenia 189
41-710 Ruda Śląska Poland

Once we receive your parcel and conform that the aforementioned conditions have been complied with, a refund for the purchased goods shall be transferred to the provided bank account number. Returns shall be considered within 14 working days.
---
Exchanging goods
All our customers are within their rights to exchange a purchased product within 30 days of receiving the delivery. Please contact us in the first place to determine the terms of the exchange.

The exchange procedure is the same as the returns procedure.