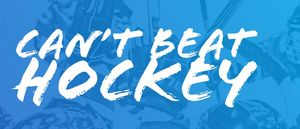 Back to the game that gave us so much.
Over the past few months, many families have experienced tremendous hardship as a result of the COVID-19 pandemic.
However, the only thing they can count on is the strength and support of the hockey community.
We launched our Can't Beat Hockey campaign to celebrate and harness the strength and perseverance of the hockey community and everyone involved in our great sport.
Limited edition Can't Beat Hockey items will be sold at participating hockey stores and on Bauer.com.
All proceeds will be donated to families in need to help them get back on the ice this year.
Limited edition of Can't Beat Hockey Skate laces
Standard untaxed skate laces
Length: 72 "(183cm), 84" (213cm), 96 "(244cm), 100" (274cm.)