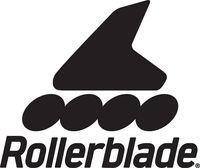 Rollerblade Macroblade 90 '21 rollers
Macroblade 90 is the quintessential model for someone looking to upgrade up from their older skates and wants to skate a little faster. 90mm is a great "go to" size for wheels and the fit and support of the Macroblade 90 is incredible. The higher boot design helps add more stability when learning to ride taller 90mm wheels thus creating a better sense of stability and control when skating. The liner utilizes engineered mesh for a added breathability, sock like comfort and has all the cushioning one could need to make learning how to skate much more pleasant. The aluminum frame adds more power transfer and durability. The closure system is easy to use and secures the foot to maximize fit and comfort. The wheel/bearing set up is ideal for skaters to have the right amount of speed and control without going too fast. Brake is on the skate.
Rollerblade Macroblade shell
Much more durable and durable. Made in seamless technology, embossed in a form without a connection line, which results in high ride comfort and perfect leg support.
Footbed: High Performance Liner
Providing breathability, very good grip and a very good fit of the insole to the skater's foot. An additional advantage is the possibility of removing the inner shoe.
Reliable, triple fastening system
Traditional lacing with a lock, Velcro strap placed at an angle of 45o, and a top buckle. This is a guarantee of the perfect fit of the shoe to the foot, stability and full control over the rollers.
Frame: Rollerblade Aluminum 11
Is durable and helps keep skaters closer to the ground with its low profile design for enhanced speed, balance and stability.
Rollerblade wheels
They belong to the softer category, thanks to which beginner skaters will have no problem with slipping rollers or with a loss of grip when skating fast, and the braking distance with slides is shortened compared to traditional 85A wheels.
Structure: Solid core and clear urethane
SG9 bearings
Accuracy of workmanship ensures lower friction inside the bearings, in addition, a special silicone gel directly affects the better transfer of force to speed. Much more durable and effective.
TECHNICAL PARAMETERS
Destiny
Fitness
Skid
Rollerblade Aluminum. Length: 280mm
Wheel size
90mm
Wheel hardness
84A
Bearings
608 standart, SG9
Tying system
Shoelaces
Type | Shoe shell
Rollerblade Macroblade shelld
Liner (inner sock)
High Performance Liner
Brake
Yes
Top clasp
Buckle
45 degree clasp
Velcro
Axles
8mm
Weight limit
-
SIZE SELECTION
The finger should touch the end of the roller, but it should not be bent. Why? But the | Roll | Padding will later increase the heat and sweating in the heel | ankle area, the foot will move back and the front of the shoe will be slightly loose instead of pressure.
FITNESS
EU
CM
SUGGESTED FOOT LENGTH
35
22
21.6 - 22
36
22.5
22.1 - 22.5
36.5
23
22.6 - 23
37
23.5
23.1 - 3.5
38
24
23.6 - 24
38.5
24.5
24.1 - 24.5
39
25
24.6 - 25
40
25.5
25.1 - 25.5
40.5
26
25.6 - 26
41
26.5
26.1 - 26.5
42
27
26.6 - 27
42.5
27.5
27.1 - 27.5
43
28
27.6 - 28
44
28.5
28.1 - 28.5
44.5
29
28.6 - 29
45
29.5
29.1 - 29.5
45.5
30
29.6 - 30
46
30.5
30.1 - 30.5
47
31
30.6 - 31
47.5
31.5
31.3 - 31.5
Complaints
The basis for a complaint and return is the proof of purchase of the product in question in our shop. Please inform us of any return prior to actually sending the goods back.
Complaints:
We consider all complaints immediately and help in their resolution. Warranty for products is 24 month
Complaints resulting from causes not due to the Customer include:
hidden defects,
parcel technical faults occurring during transport,
warehousing errors,
partial order completion,
erroneously issued accounting documents.
---
Returns
Returns: due to Customer's actions or decisions. Reason for the resignation has no effect on its recognition.
RETURNS PROCEDURE
Returning a purchased product:
1. All of our customers are have the right to withdraw from the purchase within 30 days after the receipt of the delivery. This right to withdraw can be exercised in writing and also be the return of the goods.
2. The statement may also be sent by electronic mail to: wysylka@sportrebel.pl
3. Returning the goods is equivalent to a cancellation of the purchase agreement entered into, thus certain legal requirements have to be observed in order to return the products.
4. Reason for the resignation has no effect on its recognition.
5. The cost of returning the goods to us bear customer.
6. The returned parcel must contain all the items which you received from us (additional accessories, freebies etc.)
If it's possible, please inclusion of the declaration stating your withdrawal from the purchase agreement (reklamacje_sportrebel.pdf appendix)
How to return purchased goods?
1.Package the parcel securely.
2.Send the parcel to our address:
Sportrebel Bartosz Graliński
ul. Wyzwolenia 189
41-710 Ruda Śląska Poland

Once we receive your parcel and conform that the aforementioned conditions have been complied with, a refund for the purchased goods shall be transferred to the provided bank account number. Returns shall be considered within 14 working days.
---
Exchanging goods
All our customers are within their rights to exchange a purchased product within 30 days of receiving the delivery. Please contact us in the first place to determine the terms of the exchange.

The exchange procedure is the same as the returns procedure.