Sleeker, pro inspired design modeled off the HH4500 helmet, passes the mirror test and has modern appeal. Offers the flexibility to adjust to various head shapes for a personalized and proper fit.
VERTEX foam protection, enhanced impact management with significant weight reduction
SUSPEND-TECH liner system w/ PORON® XRD™, true free-floating suspension liner offers enhanced protection and maximum comfort
Triple-density impact management protection
Dual density ear cover protection, increased ear protection with clear protective film to eliminate abrasion
Occipital lock 3.0, adjustment feature to help stabilize and lock the back of the head into place for proper fit
Central tool-free adjustment, quick and easy size adjustment feature centrally located on top of the helmet, creating a narrower and sleeker look, with enhanced side impact protection
Ventilation ports, strategically placed for improved airflow
Memory foam temple pads, contour to the different head shapes for a snug, personalized fit and provides maximum comfort
MICROBAN® antibacterial protection to resist odors and mildew
Angled ear loops, provide the accurate angle to help secure the chin strap into position for proper fit
CSA, HECC, CE certified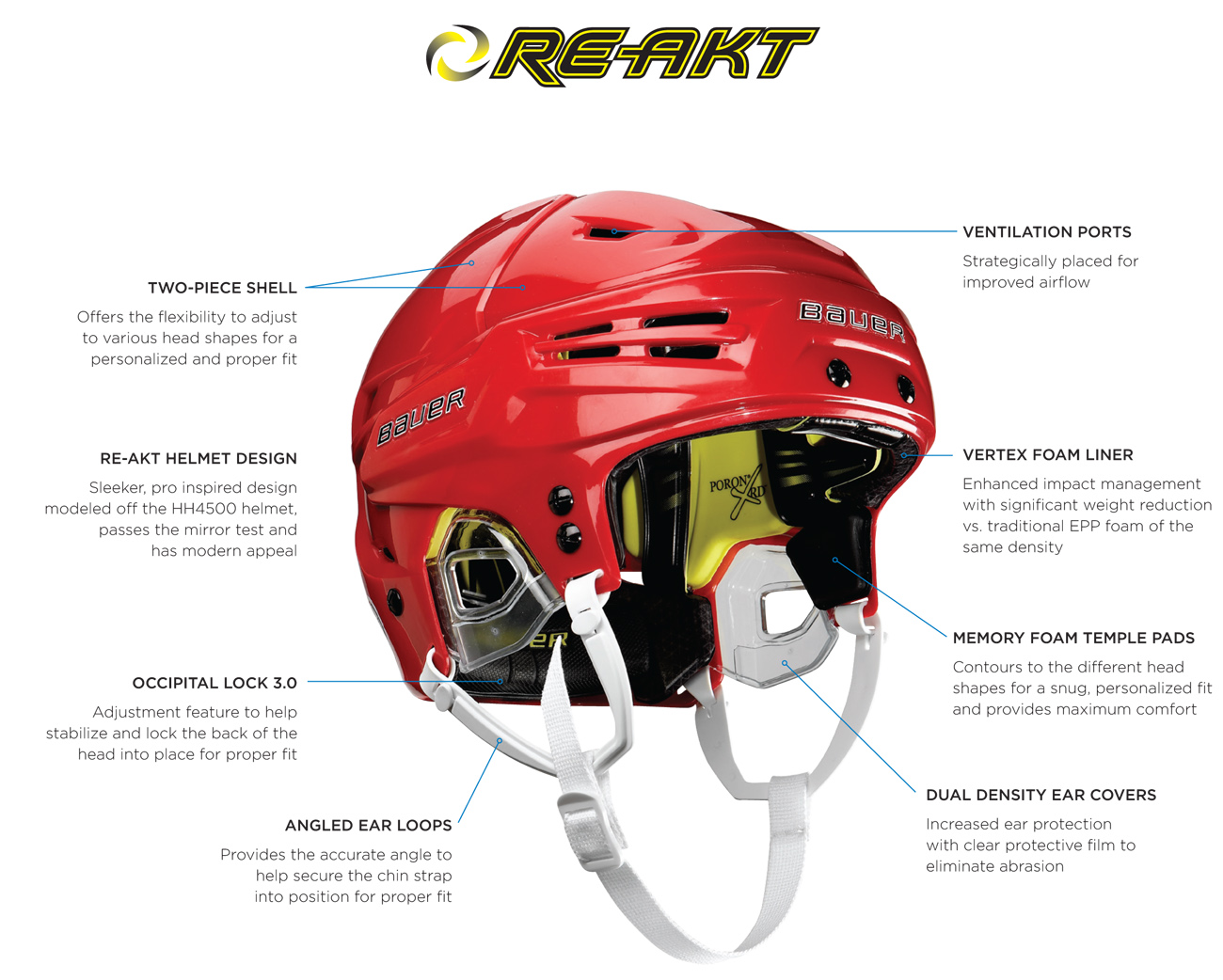 Bauer Re-act Hockey Helmet Sizing Chart

Size
Hat Size
Circumference (in)
Circumference (cm)
Youth
19.2" - 21.2"
49 - 54 cm
Small
6 1/2 - 7
20.4" - 22.5"
52 - 57 cm
Medium
6 7/8 - 7 3/8
22" - 23.6"
56 - 60 cm
Large
7 1/2 - 7 7/8
23.6" - 25.2"
60 - 64 cm
Bauer Re-act 200 Hockey Helmet Sizing Chart

Size
Hat Size
Circumference (in)
Circumference (cm)
Small
6 1/2 - 7
20" - 22"
51 - 56 cm
Medium
6 7/8 - 7 3/8
21.4" - 23.2"
54.5 - 59 cm
Large
7 1/2 - 7 7/8
22.6" - 24.4"
57.5 - 62 cm
Please Note: This sizing chart is for reference only and may not reflect personal preference.
Complaints
The basis for a complaint and return is the proof of purchase of the product in question in our shop. Please inform us of any return prior to actually sending the goods back.
Complaints:
We consider all complaints immediately and help in their resolution. Warranty for products is 24 month
Complaints resulting from causes not due to the Customer include:
hidden defects,
parcel technical faults occurring during transport,
warehousing errors,
partial order completion,
erroneously issued accounting documents.
---
Returns
Returns: due to Customer's actions or decisions. Reason for the resignation has no effect on its recognition.
RETURNS PROCEDURE
Returning a purchased product:
1. All of our customers are have the right to withdraw from the purchase within 30 days after the receipt of the delivery. This right to withdraw can be exercised in writing and also be the return of the goods.
2. The statement may also be sent by electronic mail to: wysylka@sportrebel.pl
3. Returning the goods is equivalent to a cancellation of the purchase agreement entered into, thus certain legal requirements have to be observed in order to return the products.
4. Reason for the resignation has no effect on its recognition.
5. The cost of returning the goods to us bear customer.
6. The returned parcel must contain all the items which you received from us (additional accessories, freebies etc.)
If it's possible, please inclusion of the declaration stating your withdrawal from the purchase agreement (reklamacje_sportrebel.pdf appendix)
How to return purchased goods?
1.Package the parcel securely.
2.Send the parcel to our address:
Sportrebel Bartosz Graliński
ul. Wyzwolenia 189
41-710 Ruda Śląska Poland

Once we receive your parcel and conform that the aforementioned conditions have been complied with, a refund for the purchased goods shall be transferred to the provided bank account number. Returns shall be considered within 14 working days.
---
Exchanging goods
All our customers are within their rights to exchange a purchased product within 30 days of receiving the delivery. Please contact us in the first place to determine the terms of the exchange.

The exchange procedure is the same as the returns procedure.