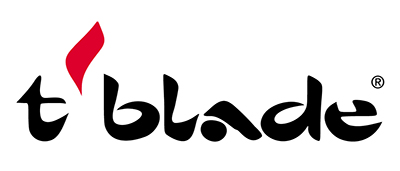 Characteristics:
The runner almost contains the entire key technology of the t-blade blade system. It consists of a 1mm thick metal strip which is molded into a cold impact resistant glass fiber plastic. Due to the low metal mass, the runner has extraordinary thermal characteristics – apart
from its minimal weight. In combination with the highly polished running surface, this leads to an improvement of up to 40% of the sliding
characteristics. After the runner has been worn down, it can be exchanged quickly and easily.
Advantages:
-Very light
-Small curve radiuses.
-Extraordinary maneuverability
-Excellent sliding characteristics.
-Up to 4-times longer duration
-Extreme edge hardness (approx. 55 HRC = 570 HV)
-Constant sliding surface length/ Rocker form
-High cornering speed
-Fast runner exchange
-Sharpening of the edges is not necessary
-Shatter-proof
Variants:
The t-blade runner is available in 18 variants. These result from the combination of three sliding surface lengths [S-M-L] with the six radiuses of hollow [9-11-13-15-18-21]. The corresponding runner variant (e.g. S-9-280) is characterized by:
-Sliding surface length (S),
-Radius of hollow (9),
-System size (280mm)
A short contact area [S] provides a better maneuverability, a long one [L] more stability. By means of deeper radiuses of hollow [9,11], a better edge hold is achieved, whereas a better sliding ability is achieved by flat radiuses [15,18]. The runner M-13 in white is the
standard variant for our blade system.
Price for a pair