Sportrebel Custom hockey puck.
Rubber hockey puck with official, senior dimensions and weight.
Black: 156-170g.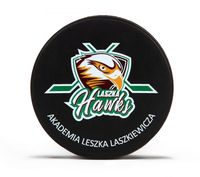 The disc has a print made by our company in UV technology.
UV printing - The technology of printing with polymer inks cured by UV light, thanks to which the print is immediately dry and ready for use.
The main advantages of this method are:
Weatherproof printing.
Obtaining high-quality graphics while maintaining a full range of vivid colors.
The print is hardened and changes from a liquid form to a thin layer of plastic.
A disc with a photo, a logo, an inscription is an original gadget, a gift, an award, an advertising medium, and also a great souvenir
We print on individual customer order.
Ordering method:
Add product to basket.
Send a print design in vector format or a high resolution photo to email:
emilia.bodzioch@sportrebel.pl
Minimum orders and prices:

Quantity: 30 pcs - price PLN 10 / pcs.

Quantity: 50 pcs - price PLN 8 / pcs.

Quantity: 100 pcs. 6 PLN / pcs.

Delivery time 7 days.